This page last updated January 2, 2017.
SQL Server 2008R2 Versions:
RTM (Release to Manufacturing) SQL Server 2008R2 – July 20, 2010 version 10.5.1600
SP1 (Service Pack 1) – July 11, 2011 Version 10.5.2500
SP2 (Service Pack 2) – July 26, 2012 Version 10.5.4000
SP3 (Service Pack 3) – September 30, 2014 Version 10.5.6000
After installing SP3, be sure to install the security update: A security issue has been identified in the SQL Server 2008 R2 SP3 that could allow an attacker to compromise your system and gain control over it.
Security Update for SQL Server 2008 R2 Service Pack 3 (KB3045316)
SQL Server 2008R2 Service Pack 1
SQL Server 2008R2 Service Pack 1 (Version 10.5.2500) has known stability bugs in the DMVs and other areas used by Database Health Monitor and other performance tools. On SQL Server 2008R2 Service Pack 1, some of the features of Database Health Monitor are disabled to avoid the known bugs that could cause your SQL Server to crash. It is always recommended that you update to the latest service pack and security update for the version of SQL Server that you are using, however this is even more important if you are running SQL Server 2008R2 SP1. There have been many security, performance and stability enhancements provided by Microsoft in the years since July 11, 2011 when SQL Server 2008R2 SP1 was introduced.
Checking the Version Number
A quick way to check your version number is to just connect to the database in SSMS and the version number will be shown in the object explorer. All SQL Server 2008R2 versions start with 10.5.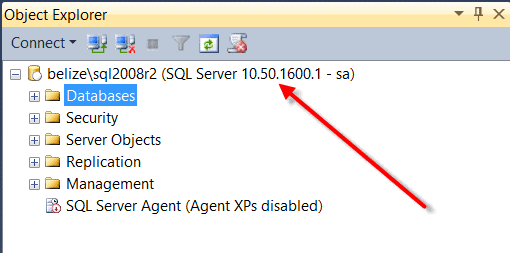 You can also view this easily in Database Health Monitor from the Performance Dashboard.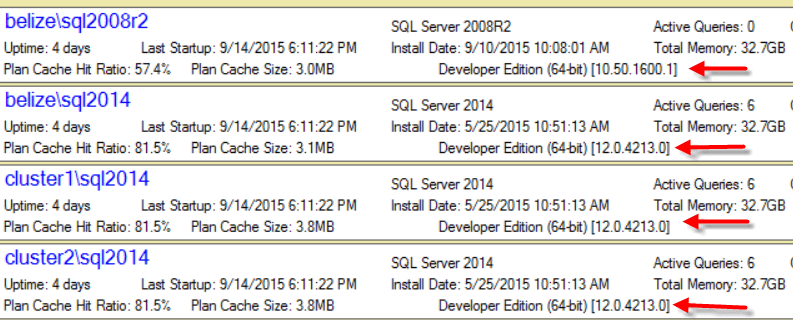 SQL Server Updates list
Other Related Links
Download this page in PDF format